Explosives Stock Book: Additional modules
There are now several modules for the Explosives Stock Book that provide a targeted enhancement of the basic functionalities of the stock book. According to our philosophy we try to keep the program slim and clear and to make everything that is not standard available as an additional function.
If you are interested in one of the addtional modules and would like to try them out without obligation, please contact us. We can then unlock them for a limited period of time on your license free of charge. The easiest way to do this is to use our contact form.
Multi-warehouse capability
The Ontaris Explosive Stock Book is designed in a manner so that normally one system is used per warehouse. In cases in which an authorized blaster administers multiple warehouses, it may make sense to administer several warehouses on one tablet PC. To make this possible, we have developed the additional module Multi-Warehouse Capability. This overrides the limitation of one warehouse per tablet PC and any number of warehouses can be administered and used on one PC.
ADR accompanying documents
The ADR stipulates that the transport of dangerous goods must be accompanied by appropriate documents which, in the event of an accident, provide the rescue services with information on the dangerous goods being transported.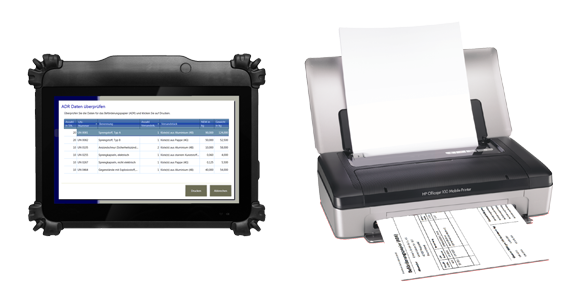 With the module ADR accompanying documents you can print out the required ADR accompanying documents directly from the Ontaris Explosives Stock Book.
If you want to record an incoming shipment or consumption with the scanner, the ADR accompanying documents are automatically generated after the booking and you can print them out via a battery-operated Bluetooth printer.
In accordance with DGUV rule 113-016 – explosives status 11-2015, explosives that, following detonation, have not fully or only partially detonated must be treated as misfires. Misfires must be removed immediately and also recorded in the directory in accordance with §16 of the Explosives Act.
To enable you to easily and quickly comply with this requirement, we have developed an additional module that extends the existing stock book software on the tablet PC with this functionality. With this extension, you can meet the legally required documentation obligations with just a few simple clicks.
The additional module "Guided Goods Issue" is available as an extension for the distributor or manufacturer version. With this module, you carry out the compilation and delivery of a customer order without errors.
In your ERP system, you enter the order and create a standard xml file that contains the individual items of the respective order (customer, delivery note number, purchase order number, article and quantity) and transfer these to the explosives stock ledger. If you now want to process this order in the warehouse, open the generated xml file in the goods issue and the stock book tells you exactly which articles in which quantity you have to scan and pack. Incorrect postings are thereby prevented, since only those articles and quantities can be scanned, which are also part of the order.
With just one click you export all transaction data in summed form into a CSV file which you can import into any ERP system (e.g. SAP). This saves you a lot of work when manually recording goods receipts and consumption in the ERP system and, above all, is guaranteed to be error-free.